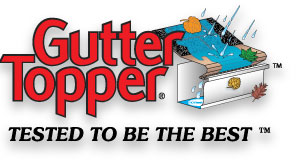 Sure, others describe themselves as gutter toppers. But you want the one, the only, the "Original" Gutter Topper. The one gutter guard that has been independently tested and certified to keep your gutters free flowing and free of debris.
Gutter Topper gutter guards are uniquely designed with eleven critical bends of strength to handle anything Mother Nature can throw at it. Whether it's 110 mph winds, enough rain to float Noah's Ark or 1,200 pounds of weight per square foot, Gutter Topper will pass the test with flying colors!
When you want a gutter protection product you can depend on; a gutter guard that will work as advertised; a gutter cover system that protects your home and keeps your gutters debris free, you want "the original" Gutter Topper - Beautiful - Safe - Strong.
Get "the original" Gutter Topper now! It's no wonder, "When it Pours, Gutter Topper Reigns."